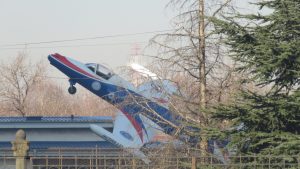 The J-21 Jastreb (Hawk), the first domestic fighting aircraft which was serially produced in the former Yugoslavia, has been recently placed on the plateau in front of the Aeronautical Technical Institute of the Faculty of Mechanical Engineering in Belgrade. The aircraft is positioned on a six-metre high pedestal in slight ascent, which creates an impression that it is really flying and draws the attention of passers-by on daily basis.
The J-21 Jastreb is training and fighting aircraft designed at the Aeronautical Technical Institute with great participation of the Department of Aeronautical Engineering of the Faculty of Mechanical Engineering, says Dr Časlav Mitrović, the Head of the Department, which has recently celebrated eight decades of educating aeronautical engineers in Serbia. The J-21 Jastreb is a gift of the Ministry of Defence of the Republic of Serbia and the Aeronautical Museum. It will be at students' disposal as a teaching aid which would serve to practically introduce the most vital aircraft parts. The aircraft was transported to the Aeronautical Technical Institute in parts. Students participated both in the disassembly and assembly of aircraft parts, and are currently working on repairing the aircraft engine, which will also serve as an exhibit and a teaching aid.
The J-21 Jastreb was a Yugoslav single-seat, single-engine, light attack aircraft, intended for surveillance and fire. It is most definitely the best proof of the expertise and craftsmanship of the aeronautical engineers trained at the Department of Aeronautical Engineering of the Faculty of Mechanical Engineering. The J-21 Jastreb was derived from the advanced jet trainer and light attack aircraft, the G-2 Galeb, and presented to the world at the Farnborough air show in 1968. It could carry weapons in the fuselage and non-guided bombs and rockets in the underwing pylons, which meant it could also handle ground attacks. Besides Yugoslavia, it was used in Libya and Zambia. In the period from 1985 to 1990 seven Jastreb planes were part of the acrobatic air team The Flying Stars.
The J-21 Jastreb was officially revealed on 22nd December 2017, the day of marking the 80th anniversary of the date when regular classes started at the Aeronautical Group of the Technical Faculty in Belgrade in 1937.
(Source: Faculty of Mechanical Engineering)