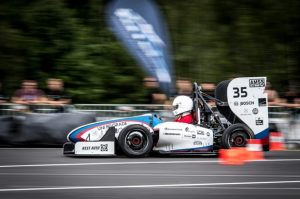 Eight years ago, a group of students of the Faculty of Mechanical Engineering gathered around an amazing idea and managed to form the team that would represent Serbia at Formula Student, the most prestigious engineering students' competition in the world. Owing to students' commitment and great support, the Road Arrow team has become a recognisable brand and the pride of both the Faculty of Mechanical Engineering and University of Belgrade.
The task of the members of the team is to design and construct a racing car, which then competes at racing tracks throughout Europe with 600 university teams from around the world. Six vehicles were made starting from 2012, and the team competed in races all around Europe (Germany, Great Britain, Italy, Hungary, Austria etc.).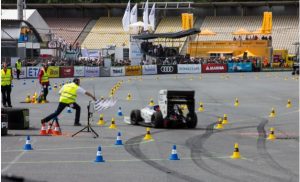 The project encourages students to think creatively and apply an innovative approach to solving all the demands they are facing. A valuable experience for students is working with older colleagues, some of whom are already employed at the companies that very much appreciated the knowledge they had acquired during their participation in the Road Arrow team activities.
Today, the team includes more than 50 students from eight faculties of the University of Belgrade. There are six subteams: aerodynamics and design, chassis and handling, powertrain, materials, electronics, and marketing and sponsorships. The design is a very demanding process, since the students need to design a safe, reliable and agile racing car. On the other hand, this is an opportunity for both Bachelor and Master students to join in and broaden the knowledge obtained at the faculty. Apart from design, throughout the season, the students work on construction and testing, and attend competitions. All the time, the team needs good organisation, fund raising and project management. That is why being a member of the Road Arrow resembles being employed at a company, and this is what distinguishes the members of this team from other students.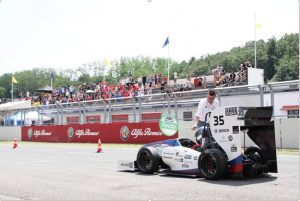 The design of the vehicle for the current season has already been completed. The team is now working on manufacturing all the necessary parts in order to be able to start assembling the Road Arrow 2018 in spring. This stage will be followed by performing various tests and preparing for competitions. The goal for this season is to construct a reliable vehicle which would be successful at competitions. All the pieces of information about the progress of the team are available at www.stt.org.rs, as well as on social networks. The video footage can be found on the You Tube channel Drumska Strela – Road Arrow Belgrade.
(Source: Faculty of Mechanical Engineering)